Here, you will find answers to many common questions people have asked David Stevens about decks.
Feel free to email David Stevens any questions you might have about decks or their construction.
1. HOW LONG WILL MY DECK LAST?
Pressure treated decks last about 25-30 years. Without water sealer, or any care, they generally fall victim to splitting and warping. Good pressure treated wood will not rot or decay or be disturbed by insects.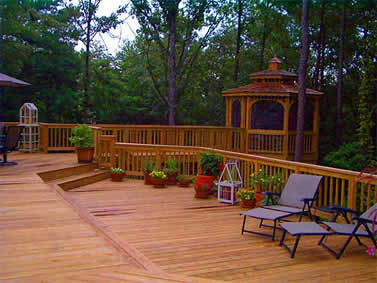 The majority of the warping, splitting and shrinking happens during the first few weeks after the deck is built. Some of it is due to bad nailing, but some is because the boards "get an attitude." One out of every ten of the decks that we build has this problem. Give us one call and we'll replace the offending boards.
Treating the deck with water sealer slows down the splitting and warping but is only effective after the wood has dried out (any where from 2 to 6 months after the deck is built). Water seal can be swept, rolled or sprayed on, and in general, it takes more time to move the furniture than it does to seal the deck. Only the areas that get sun really need sealer.
The more sun your deck gets, the more often it will need to be sealed, but I'd guess twice a year is good (but I'll say again - an untreated deck will last 25 years). Pigmented stains are better preservatives than water seals but are more expensive, and take more time, as they need to be brushed evenly and, shall we say, stained decks are out of style.
The worst splitting and warping happens in the thicker posts - the 4X4s in the rails and 4X4s, 4X6s, or 6X6s in the posts. Cracks in 6X6 posts are sometimes wide enough to put a pencil in - but it doesn't in general affect their strength. They also tend to want to bend and warp. We try to avoid this by bolting them into the band on top as opposed to just letting the band sit on top of the post and sinking them into the concrete on the bottom. However, here again, sometimes the wood "gets an attitude," and on about one out of fifty of our decks we replace a post.
Our footings are generally a square foot of cement (more in soft dirt). Occasionally, especially on newer homes, the ground will sink - or settle - and the footing will fall with it. So on about 1 out of 50 of our decks we will have to go back and jack up the deck and put in the additional cement. This won't cost you anything for two years after the deck is built, and if you're really nice (plus I figure you're an innocent victim), you can get this service forever. I would say complaints about warps and cracks are a low priority, but sinking is a big problem.
2. WHAT TO EXPECT DURING CONSTRUCTION
Normally, it takes between a day and a week to build a deck. That will be discussed ahead of time.
Normally, the wood will be delivered the day or the day before construction begins depending on a lot of things. The truck will not go on your grass unless you approve it.
Between 2 and 5 guys will show up at your house at an agreed on time. In the summertime, we like to start at the crack of dawn, but we will work with you. In the winter, we start closer to noon, depending on the temperature. It will almost always be me - David Stevens - and whoever I need to do this job. Generally, people I've known for years (I don't use sub-contractors). I will expect a check on arrival. There will be no music, no smoking. We will attempt to leave you with access to your garage. We will not (unless we have permission) drive on your lawn. You may hear some profanity (were working on that), and some of the talk may be a little spicy (especially on Monday), but be assured "it's mostly make believe."
If the job takes more than a day we will try to get the trash out of the way and give you safe access to what we've finished. We will clean up and haul away all debris (that is bigger than a baseball). There will be no nails in your yard. The dirt we dig out for the footings we try to dispose of or hide. Tell us where to put it, or request it in the proposal (unless we have a prior agreement, I don't haul away cement, rocks, or dirt).
3. DO YOU GIVE FREE ESTIMATES?
I have never charged for an estimate, but if this is your first question I may be tempted to believe you don't really want a deck but are really just interested in free things. A better opening line would be "I'd like to build a deck and would like some ideas", or "We've decided to build a gazebo and we want you to look at our plans", not "We're building a small fence and collecting quotes". Also, if you decide to go with another builder or decide not to build, please send me a quick email just to let me know.
4. WHY SHOULD I HAVE YOUR COMPANY BUILD MY DECK (PORCH, FENCE, GAZEBO...)
Because all my customers are happy and brag about their addition. My recommendation list is my client list. I'm not the best salesman in the world but I do the work myself. Do you really want to give a salesman 30% of the job price just because he remembers the name of your dog?
5. HOW ABOUT THEM BRAVES?
How about those Braves?
6. WILL I MATCH ANYBODY'S PRICE?
Not necessarily. It may not be the same product or the same service offered. But, I am certainly reasonable when it comes to pricing. Since the materials used to make the deck run at least 50% of the total cost of construction, I feel that it makes sense to pay a qualified professional to do the job right.
Should you get a quote from a competitor that is less than one I've given you, give me a call to see what options you might have. Perhaps the quote I gave you was for a cedar-based structure, and the competitor is using pressure treated plywood. The point being is that I would like your business, and will do what I can to win it.
7. WHAT ABOUT STAINING OR WATER TREATMENT?
Pressure-treated wood can be stained or receive water treatment after about 3 months. Either one greatly reduces cracking and warping and keeps the wood looking fresher. Water treatment can be reapplied about once a year. Stain lasts longer. I donít recommend pressure washing because I think it damages the wood (Iím aware that a lot of pressure treatment companies disagree with me). If you have a dog-spoiled deck, some products will clean it up without damaging your wood. I can do the cleaning and staining or treatment. Give me a call when your wood looks dry if you want me to stain or treat it.
8. WHY DON'T CONSTRUCTION CONTRACTORS TREAT ME MORE LIKE THE GUY WHO SELLS ME MY APPLIANCES, MY USED CARS, OR MY TIME SHARES ON A FLORIDA BEACHFRONT PROPERTY?
Because they sell you something, they get their money, and then they never see you again. It's different with us contractors. We don't get our money up front, and our clients don't go away. Theirs is a seduction, ours is a slow dance.
9. I'VE HAD A LOT OF PROBLEMS WITH OTHER CONTRACTORS, SO WOULD IT BE OKAY IF I PAID YOU AT THE END OF THE PROJECT?
Answer they are hoping for: "I'd like to apologize for all contractors. I will give you a big discount, and you don't have to pay anything until you are completely satisfied."
What I think: "This person has problems getting along with people and maybe he's a jerk. I'll tack on a 20% jerk fee."
What I would actually say: "It's important for you to check out the references and get to know your contractor, and please check out my references. But I feel uncomfortable if you have a lot of my money or if I have a lot of your money so I like to have a pay often plan."
Actually I have not had this question, since I stopped advertising. Now all of my proposals are made for people who know something about me, but I always got a kick out of remembering that question.